Simplify Property Management: An Easy-to-Use CRM Solution for Efficient Real Estate Operations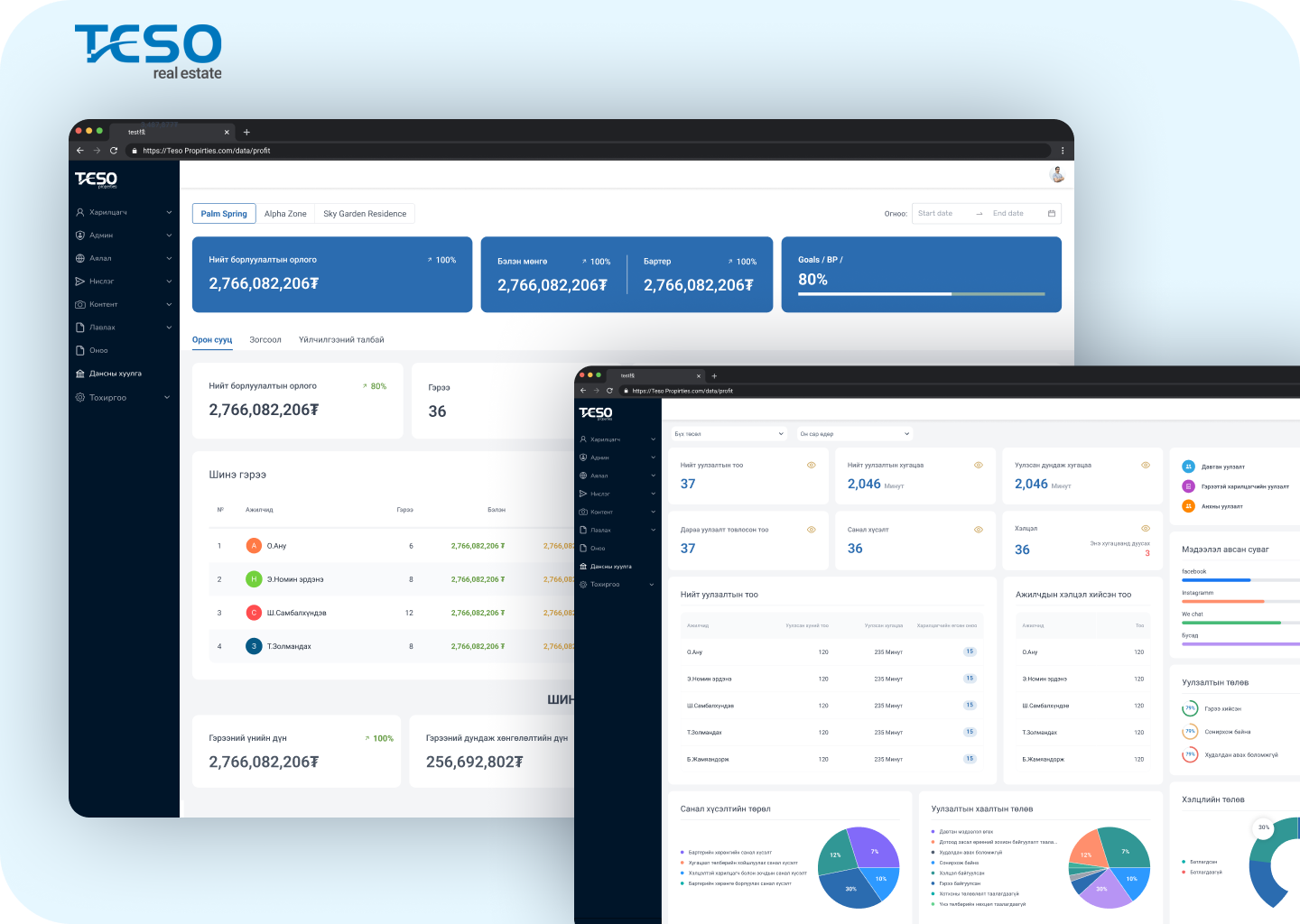 Teso Properties, a leading player in the real estate market since 2013, offers a diverse range of services to customers, including real estate evaluations, sales, short and long-term rental options, and legal consulting. However, with over 3000 clients, Teso Properties faced a significant challenge when it came to managing a vast amount of customer information, ranging from contracts to phone calls to payment processes.
To streamline their operations and deliver unparalleled services to their clients, Teso Properties turned to a tailor-made CRM solution to revolutionize their client information management.
Simplified Operations: With the new custom CRM solution, Teso Properties has simplified their real estate management operations. The CRM acts as a central information hub, enabling them to manage client data and property information with ease.
Efficient Processes: The CRM platform automates contract management, payment processing, and client communication via email or SMS messages, enhancing the overall service experience.
Improved Customer Experience: Teso Properties' custom CRM solution includes portals where clients can view their property leases, renewals, and more. They can also report maintenance issues, track repair status, and make payments online, enhancing their overall experience.
Enhanced Analytics: The custom CRM solution also features intuitive analytics and reporting tools, enabling Teso Properties to monitor rental performance, track expenses, generate comprehensive reports, and make informed decisions.
By implementing a custom CRM solution, Teso Properties has revolutionized their operations, providing a high level of customer service to their extensive client base. Streamlined processes, improved communication channels, and enhanced data management have vastly improved their efficiency, resulting in an all-around better real estate experience for their clients.
Our works
---
At Teso Properties, we offer a comprehensive range of services to meet your real estate needs. Here's an overview of the specific works we provide:
- Requirements Analysis and Documentation: Our team will conduct a detailed analysis of your requirements to understand your business objectives and specific needs. We will then document these requirements to serve as a foundation for the development process.
- Design Documents: Our experts will create comprehensive design documents that outline the architecture, functionality, and user interface of the CRM system. These documents will serve as blueprints for the development and implementation phase.
- Mobile Application for Sales Managers (iOS & Android): We will develop a user-friendly mobile application specifically designed for sales managers to access the CRM system while on the go. This app will provide seamless access to client data, property information, and other essential features to enhance their productivity.
- Web System: Our team will develop a web-based CRM system, accessible from any device with an internet connection. This system will serve as the central hub for managing client information, property data, contracts, and other crucial aspects of your real estate business.
- Call Center API Integration: We will integrate the CRM system with your existing call center software, enabling seamless communication between sales agents and clients. This integration will enhance efficiency and ensure smooth information flow.
- Bank Payment Gateway API Integration: Our developers will integrate the CRM system with leading bank payment gateways, allowing for secure and convenient online payment processing. This integration will streamline payment collection and enhance user experience.
- Test Cases and Test Plans: We will create comprehensive test cases and develop test plans to ensure that the CRM system functions correctly and meets your specific requirements. Thorough testing will be conducted to identify and resolve any potential issues before system deployment.
- User Manual and Training Materials: We will provide a user manual and training materials that offer clear instructions on how to effectively utilize the CRM system. This documentation will empower your team to maximize their productivity and troubleshoot common issues independently.
- Maintenance and Support: Depending on our agreed-upon terms, we will provide ongoing maintenance and support services for the CRM system. Our team will address any issues that arise, implement necessary updates, and ensure the smooth operation of the system.
At Teso Properties, we are committed to delivering a customized CRM solution that meets your unique requirements and elevates your real estate operations.
Result
---
- Web system: https://teso-real-estate.com/
- Mobile app management - Android: https://play.google.com/store/apps/details?id=com.teso_prop_boss
- Mobile app realtor - Android: https://play.google.com/store/apps/details?id=com.teso_prop_realtor
- Mobile app - iOS: https://apps.apple.com/ba/app/teso-real-estate/id1625651456