Providing tech solutions for TECHSTARS company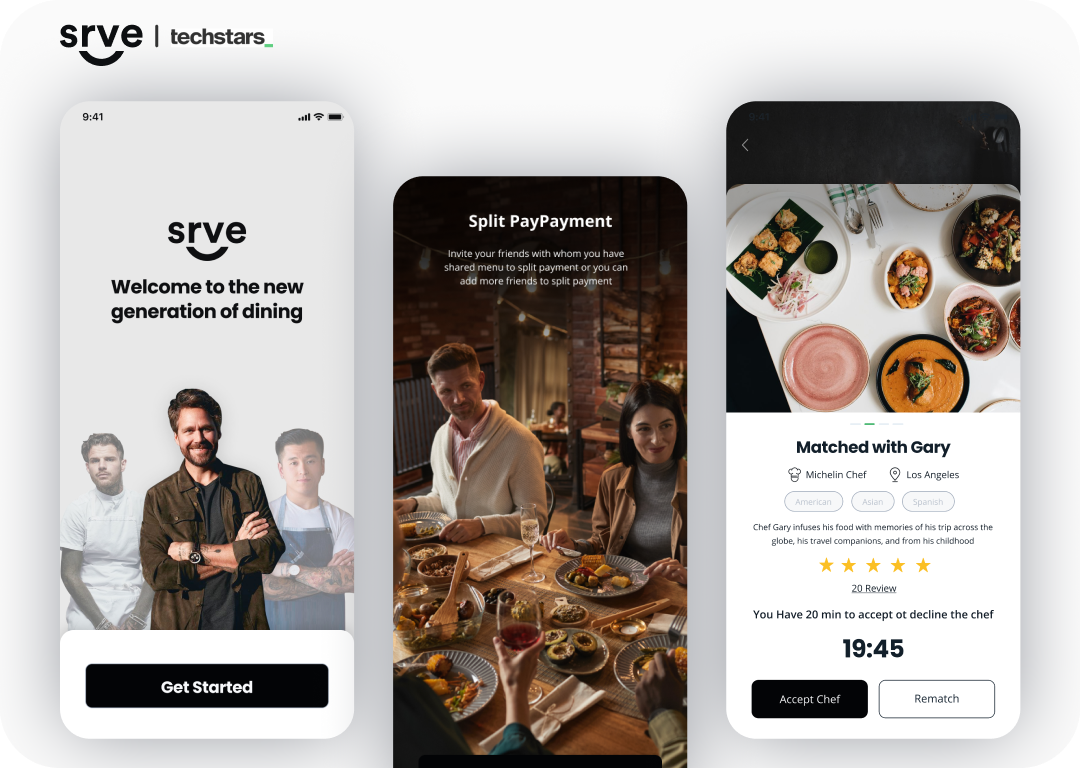 SRVE operates as a marketplace for chefs, allowing customers to rent a master chef for their event and enjoy a customized dining experience. Our platform provides a convenient alternative to traditional food ordering services, allowing customers to enjoy  chefs in the comfort of their own homes.
With SRVE, customers can now enjoy a revolutionary dining experience by renting a master chef right to their own home. SRVE operates as an online marketplace for chefs, providing an alternative to traditional food ordering services and allowing customers to explore a unique and personalized dining experience. No need to leave the comfort of your own home - SRVE makes it easy to enjoy a master chef at your fingertips.

Initialize/Problems
SRVE was founded by a team of foodies and tech enthusiasts who were looking to disrupt the traditional dining experience. They realized that people were seeking something more than just a standard restaurant meal and wanted an experience that was customized and unique. SRVE was created as a marketplace that connects customers with master chefs who can provide a tailored dining experience in the comfort of their own home. The platform allows customers to browse through the profiles of chefs, view their menus and prices, and book a customized experience for their event. The SRVE team is constantly working to improve the platform's technology, ensuring that customers have a seamless and enjoyable experience every time.
Dine Tech
Technology has drastically changed the way we live and experience things, and now it is revolutionizing how we dine. Introducing Dine Tech, the groundbreaking technology behind SRVE's custom dining experience. SRVE has created a revolutionary marketplace that allows customers to rent master chefs for their events and enjoy a personalized and luxurious dining experience. With this innovative platform, customers can benefit from the convenience of having their own chef in the comfort of their own home. With Dine Tech, SRVE is revolutionizing the dining industry and making customized gourmet meals a reality for everyone.
At the heart of SRVE's custom dining experience is a sophisticated platform that leverages technology to connect customers with their perfect chef. From browsing chef profiles and menus to scheduling and payment, SRVE's platform streamlines the entire process, making it simple and hassle-free. But the technology doesn't end there – chefs also use our platform to manage their bookings, menus, and payments, allowing them to focus on creating incredible culinary experiences. With advanced algorithms that match chefs to customers based on their preferences and dietary restrictions, SRVE is changing the way people dine by using technology to deliver personalized, unforgettable experiences.

We delivered substantial cost savings to the CEO during the product development process, providing the most significant value proposition for our partnership with SRVE. Our ability to efficiently manage resources and minimize costs has enabled SRVE to maximize its returns on investment and achieve a higher level of profitability.
Web platform: https://srve.co
Download link: https://shorturl.at/cmtG0