Scroll, Connect, and Control: Joyn App Simplifies Your Social Media Experience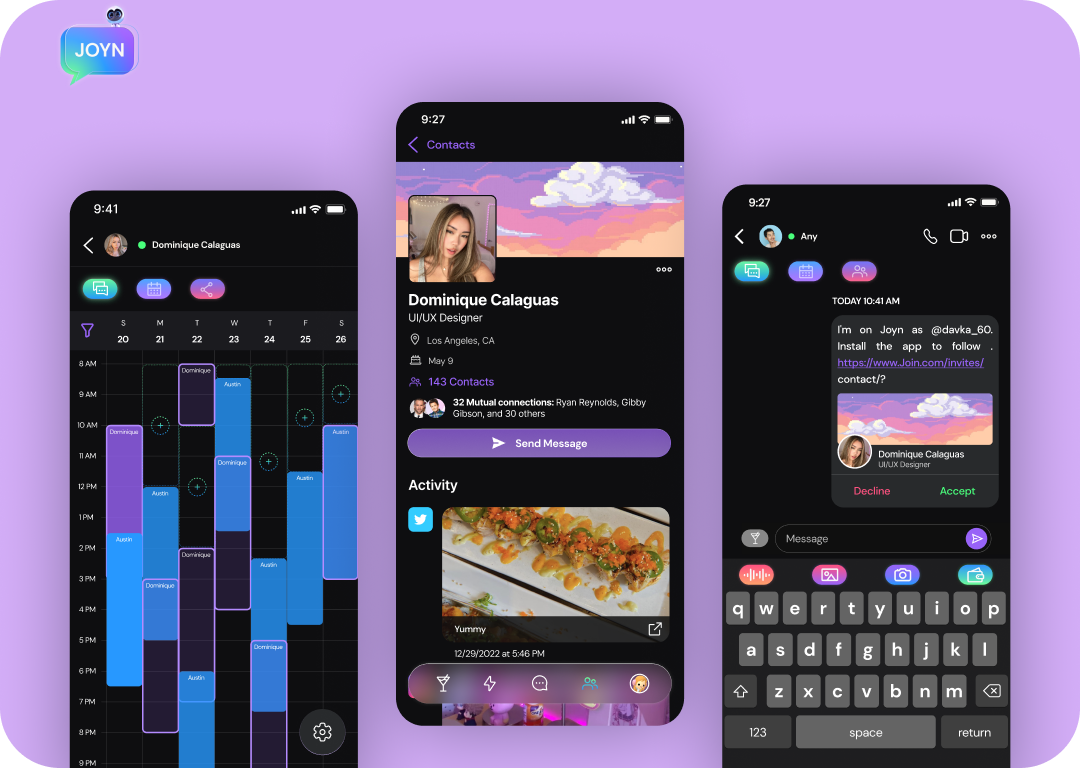 Is there an easy way to manage your social media activity and stay connected? Joyn App is the answer!
A social media app based in Los Angeles, USA, enables users to scroll, monitor, and access a variety of social media platforms that suit their needs. With Joyn App, users can monitor and control their social media accounts with ease by integrating all types of online calendars into one place.

Challenge / Why it is needed?
In today's world, we have an overwhelming number of social media platforms available to us, each with its own unique features and purposes. This can lead to a scattered and disorganized experience when trying to keep up with all of them. That's where Joyn App comes in, offering a centralized platform to connect and control all of your social media needs in one place. By simplifying the process of monitoring and interacting with multiple platforms, Joyn App saves users time and enhances their overall social media experience!

Top solutions:

Streamlining Your Online Calendars with Joyn App
It's easy to manage all of your online calendars with the Joyn App. All your appointments and events are displayed at a glance when you use our app, which integrates with Google Calendar, Apple Calendar, and Outlook. Plus, you can easily create new events and sync them across all of your calendars. As a result, you can focus on what really matters instead of switching between multiple apps and platforms. With the Joyn App, you can stay organized and in control!

Enhancing Social Media Monitoring and Control with Joyn App
Joyn App comes with the advantage of being able to monitor and control all of your social media platforms at once. In this way, you can easily track your social media feeds, respond to comments, and manage your content schedule without ever leaving the app. Users can track engagement and performance across multiple platforms with Joyn App's advanced analytics and reporting tools. Take your social media game to the next level with Joyn App!

A Closer Look at Joyn App's Features and Capabilities
Some of the key features and capabilities of Joyn App include:
- Unified Social Media Feed: Joyn App allows you to view all your social media feeds in one place, so you can easily scroll through updates from all your accounts.
- Calendar Integration: Joyn App integrates all your online calendars, including Facebook, Google Calendar, and more, so you can keep track of all your events and appointments.
- Customizable Dashboard: Joyn App's dashboard can be customized to suit your specific needs and preferences, allowing you to prioritize certain feeds and events.
- Smart Notifications: Joyn App sends smart notifications to keep you updated on upcoming events, important messages, and other notifications from your social media accounts.
- Easy Sharing: Joyn App makes it easy to share updates across all your social media accounts, so you can stay connected with your friends and followers no matter which platform they use.
Overall, Joyn App offers a comprehensive solution to all your social media needs, helping you stay organized and in control of your online presence.

Customer Reviews and Testimonials
FIBO CLOUD Pte Ltd. delivered the project on time and according to the client's needs. The team communicated effectively and went the extra mile to complete their tasks. The client praised the team's ability to handle multiple tasks simultaneously without sacrificing the quality of their work
Review on Clutch: https://clutch.co/profile/fibo-cloud-pte#highlights
Web Link: www.joynchat.com
Download link: https://shorturl.at/hxEJ0