File Freedom: Public File Sharing Transfer Service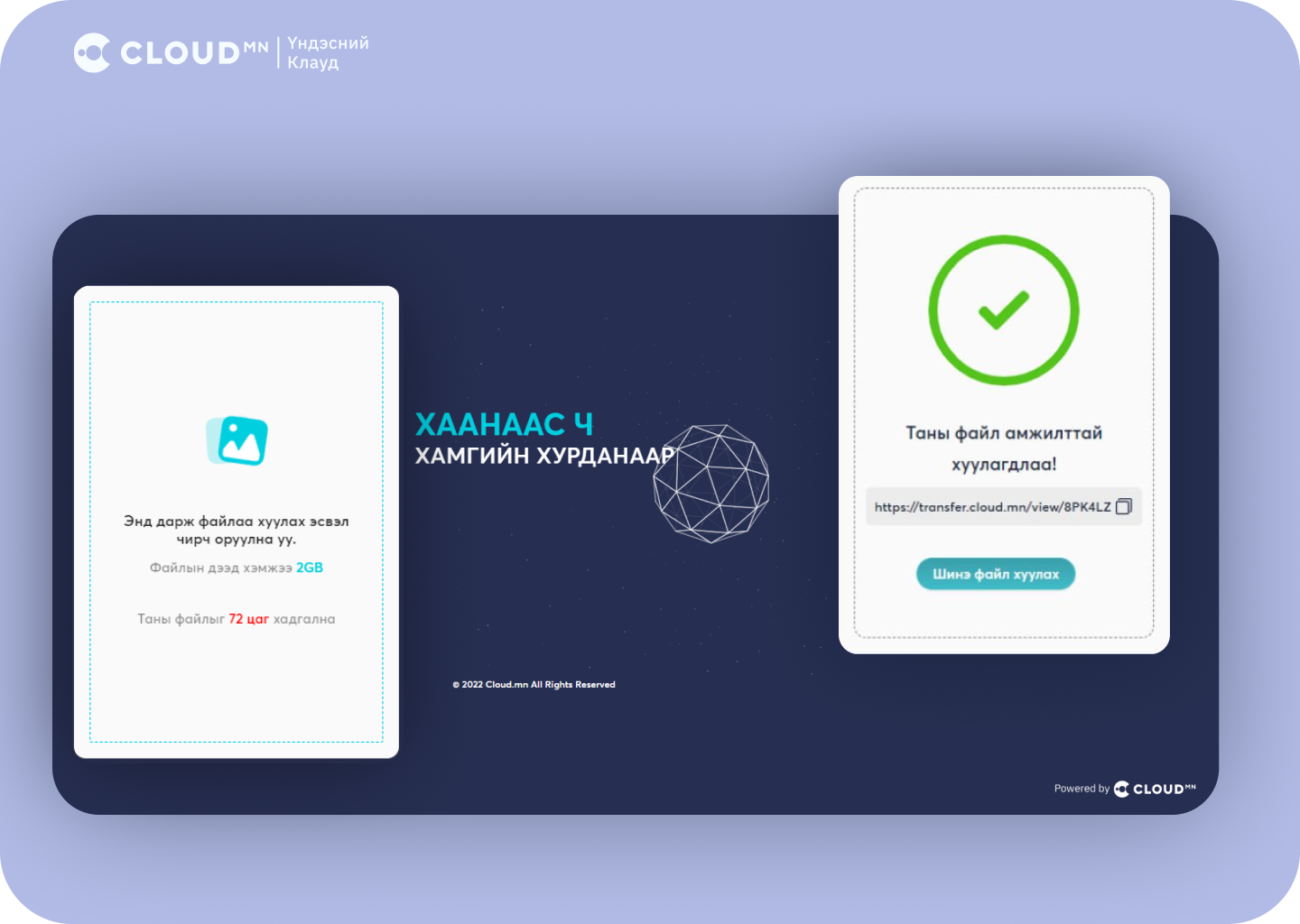 We understand the challenge of exchanging large files and the limitations of email in file transfer. That's why we introduced a public file sharing service. It allows individuals to securely and easily exchange files up to 2GB in size. Our service is designed to meet the needs of those who require a solution for sharing large files.
We're proud to be the pioneers of data center innovation in Mongolia, and our customers have embraced our service. Our local server-based file upload system enables seamless file transfer with unlimited speed and no internet restrictions. It's a unique offering in the Mongolian market, providing a convenient and efficient solution for file sharing.
In essence, our public file sharing service is like the Mongolian equivalent of WeTransfer - a popular file transfer service. With our service, you can confidently share large files easily and securely, overcoming the limitations of email and other traditional methods.
We always strive to provide innovative solutions that meet our customers' needs. Our goal is to make file sharing simple, efficient, and accessible for everyone.
Key features
---
We will provide you with the following deliverables for your public file-sharing transfer service:
- User Interface: We will design and develop a user-friendly interface that allows users to easily upload and download files. The interface will have clear and concise navigation to enhance the user experience.
- Server Infrastructure: Our team will set up a robust and secure server infrastructure to handle large file transfers. This infrastructure will prioritize data privacy and security, ensuring that your users' files are protected.
- Testing and Quality Assurance: We will conduct comprehensive testing and quality assurance processes to ensure that the system operates as expected and meets your specific requirements. This will involve testing the functionality, performance, and security of the file sharing service.
- Deployment and Configuration: Our experts will establish a well-defined deployment and configuration process for the system. This will ensure that the service is deployed in a timely and efficient manner, minimizing any disruptions or downtime.
- Maintenance and Support: We will provide a maintenance and support plan to ensure the ongoing operation of the file sharing service. Our team will be available to address any issues or concerns that may arise, ensuring that your users have uninterrupted access to the service.
With these deliverables, you can expect a user-friendly and secure file sharing service that meets your needs and provides a seamless experience for your users.
Useful link : transfer.cloud.mn